A proven method used by over 142 000 students!
Born in the 1960s in the United States, pop music is inspired by many different styles, including folk, which is itself a very broad style. Pop-folk music is therefore related to popular music. You may have wanted to learn guitar by listening to folk music! This style is full of fun tracks to play on the guitar and many of them are accessible to beginners, whether on folk or electric guitar!
Take a complete guitar beginner course with an international rock-jazz-blues guitarist . Get all the basic concepts and notions you need to learn the guitar serenely.
Reach the next level by taking this intermediate guitar course! Improve your technique and learn to play famous songs!
In Keziah's acoustic Blufunk guitar masterclass, you'll learn his greatest songs & titles from his new album.
With your subscription, get unlimited access to all lessons, styles, for all instruments!
Practical tools for learning
A learning space designed by & for musicians
A large backing tracks catalog with all your favorite tracks
The folk guitarist's equipment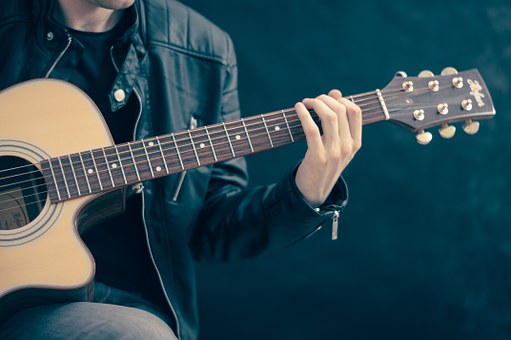 The pop-folk style being very broad, it is difficult to identify material specific to this style. Don't worry, at first, you will just need to have a folk guitar, or an electric guitar depending on your preferences. However, avoid the use of a classical guitar, which is a little less suitable for playing this style of music.
Feel free to ask about the equipment of guitarists whose sound you like! It is a good way to gradually find your way around the mass of guitarist equipment you may see. It will also allow you to get the sound you are looking for, by adding an effect pedal on your electric guitar for example.
You got it, there is not typical equipment to play folk music on the guitar. Just prefer versatile guitars, and your playing will do the rest!
Some folk guitar hits to learn
Discover some of the must-see folk guitar songs!
Ed Sheeran – Thinking Out Loud
Amy Macdonald – This Is The Life
Oasis – Don't Look Back In Anger