Jazz is an old musical genre that has roots in the musical traditions of both Africa and Europe. Precursors to jazz include other musical genres such as Ragtime, Blues, Church hymns & Marching Band music. Even though Jazz is often associated with instruments like the piano, trumpet and saxophone, the guitar also has an important place in jazz.
First used in Blues, the guitar was later sidelined by the Banjo, especially by in Jazz orchestras that preferred its more precise rhythm and sound volume. And yet, the guitar appears relatively early in the history of Jazz. In Louis Armstrong's early recordings, we can hear guitarists like Lonnie Johnson. At the time, the Jazz guitar wasn't used in a soloist role, but more in a dialogue with other instruments. The guitar gradually emancipated itself from the rhythmic side to include the melodic.
Todd Clouser invites you to take a complete guitar beginner course with him. Get all the basic concepts and notions you need to learn the guitar serenely.
Romane's course will teach you all the nuances & techniques of Gypsy Jazz guitar playing.
This online Jazz Guitar Masterclass is geared towards experienced players. Sylvain Luc shares his experiences as a Jazz guitarist & his vision of music to help you develop your technique!

Your subscription gives you unlimited access to all our courses, all styles and instruments!
I love the concept !!The lessons are very rich & detailed.
The number one online music school: great concept, nice interface, I highly recommend it.
The lessons are very diverse & interesting. I can progress at my own pace on a simple user-friendly website. The teachers are excellent & really make me want to learn an instrument!

Practical tools for learning

A learning space designed by & for musicians

A large playback catalog with all your favorite tracks
Equipement used by the Jazzman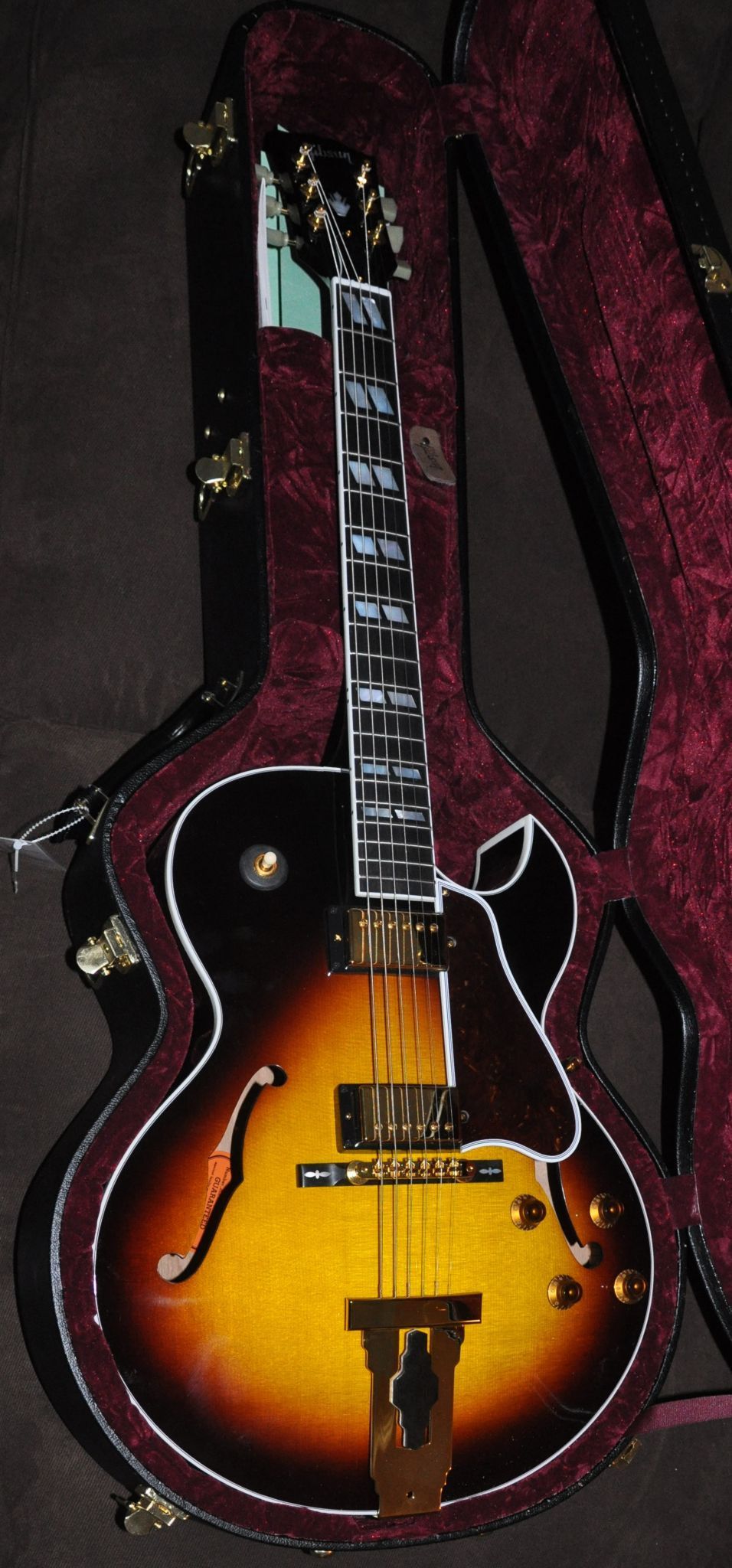 The first jazz guitars were actually folk guitars. It took some time for electricity to be added to these instruments, first through amplifiers, & then with the invention of electric guitars. The first of these, that still exists today, is the Gibson L4 or L5 models.
Steel strings are favored for a more metallic resonance, as well as amplification on electro-acoustic guitars for a greater sound potential.
To get started playing Jazz guitar, there are several models you can choose:
The Selmer guitar: it is very often used for playing gypsy jazz, is good for solos as well as accompanying other stringed instruments. However, its rather weak sound can quickly be covered by other louder instruments.

The acoustic guitar: if you want to play Latin jazz, this is what you need! Favor nylon strings and a solid body. You can also play different types of jazz other than Latin, but in these cases consider buying a guitar with a rounded body that will be more resistant to the tension of metallic strings.

Electric Jazz guitars. Choose a Swing/be-bop full-body guitar, preferably a model equipped with an adjustable microphone and built-in amp.
Remember, no matter what type of electric guitar you choose, make sure you purchase a good quality amplifier!
The great jazz guitarists
The list is long and the choice is hard, as you can imagine.
So in the list of great artists who have marked the world jazz, here are some essential names to know:
Lonnie Johnson, who propelled the guitar into the jazz scene.
Eddie Lang, who is surely one of the first improvisers on the guitar.
Charlie Christian, who is best known for promoting the solo electric guitar in jazz orchestras.
Wes Montgomery, who influenced many jazz guitarists with his playing technique.
Without forgetting Django Reinhardt, the French guitarist whose playing and composition gave birth to a style in its own right: Gypsy Jazz.
Jazz standards on the guitar
Here are some Jazz standards you can learn how to play with imusic-school!
imusic-school has a large catalogue of jazz pieces, so you can learn to play many of your favorite songs!
It could happen to you – Jazz Standard
Autumn leaves – Jazz Standard
Footprints – Wayne Shorter
Learn to play your preferred style