Meet Sylvain Luc, a French composer, arranger, guitarist & bass player
Sylvain Luc was born in Bayonne, France and discovered the guitar at 4 years old. He moved to Paris in 1988 and became an arranger, composer and accompanist for many pop artists, however, he expresses himself most freely through jazz music.
His talent and reputation has led him to work with talented artists such as Wynton Marsalis, André Ceccarelli; Michel Legrand, Manu Katche, Michel Portal; Didier Lockwood, Richard Galliano, Bireli Lagrene, Steve Lukather… and many more. He therefore had the opportunity to record many collaborative albums. Sylvain regularly travels in France, Europe and America giving concerts and recording new music pieces.
He arranged, composed and played for the singer Benoît Cazenave, then played bass in Richard Galliano and Francis Lassus's trio. He also accompanied the Argentine singer Jaïro and mastered classical guitar with Michel Sadonovski.
Take a jazz guitar Masterclass with a renowned guitarist
His talent for strings is not limited to the guitar. While exploring classical music, he also learned the mandolin, violin and studied the cello for ten years at the Conservatory of Bayonne. Sylvain Luc has said that his study of the cello helped him build strength in his fingers that was beneficial for guitar playing.
In 2008, he won the Golden Django award. In 2000, he founded the formation Trio Sud with André Ceccarelli and Jean-Marc Jafet. From 2000 to 2001, Sylvain and his band Trio Sud performed at hundreds of concerts in France, Germany, Switzerland and Canada. In March 2002, Sylvain began a Solo tour and a tour with Trio Sud for their new album release.
Sylvain will share his secrets, techniques and tricks in this course that jazz guitarists won't want to miss! Enjoy learning from a experienced and renowned jazz guitarist!
Your
Jazz Guitar, Music Theory

teacher
This online Jazz Guitar Masterclass is geared towards experienced players. Sylvain Luc shares his experiences as a Jazz guitarist & his vision of music to help you develop your technique!
Your Guitar / Music Theory professors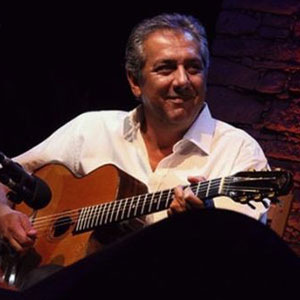 Acoustic guitar / Guitar
Jazz Manouche
Guitar / Music Theory
Blues / Jazz