Beginner Guitar Chords – 12 chords you must know
Discover the chords to know to start the guitar!
It's not always easy to navigate among all the chords when you start the guitar. But do not panic, we have prepared a summary sheet of 12 chords that you must learn first! In addition, you can download it to view it anytime!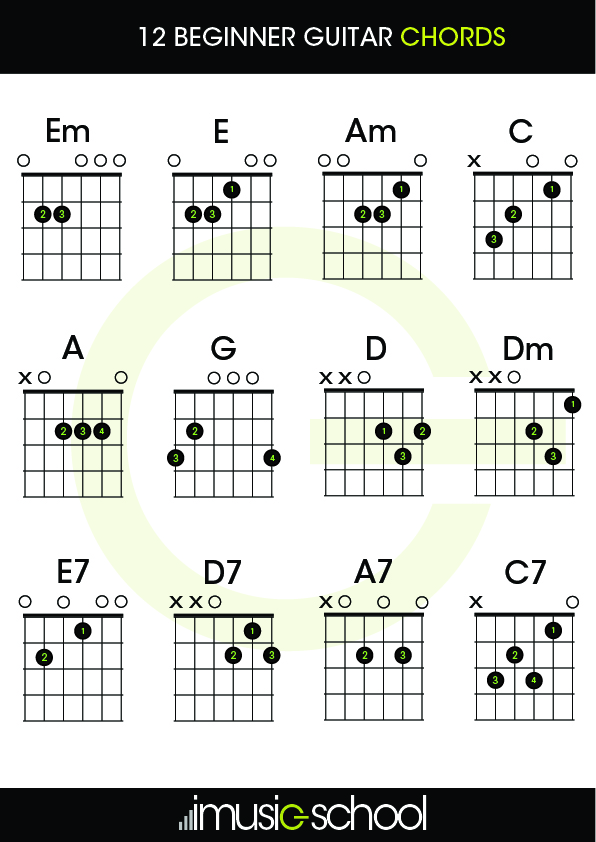 Beginner on the guitar? Learn to read this fact sheet!
The chords are presented as chord diagrams. If you can not read them, do not panic, we explain to you everything!
A chord diagram shows the neck of the guitar seen from the front, as if you held your guitar in front of you. The bass string (the low E string) will beon the left.
The frets are symbolized by squares.
The black circles tell you where to place your fingers. They are numbered to specify the position of each finger. From 1 for the index to 4 for the little finger.
A cross over a rope indicates that it should not be played
A round indicates that you have to play the "open string", it means without pressing any square.
You now have the essential information to understand this fact sheet as beginner guitarists. If you want more details on the chord grids, discover how to play the guitar with imusic-school !
Why these 12 beginner guitar chords?
These major chords, minor and seventh are to learn first when starting on the guitar for several reasons:
They are all located in the bottom of the neck and are "open" chords, that is, they are quite easy to achieve and remember! They are adapted to the level of a guitarist who starts. Here, no bar chords or complex finger positions.
These chords will allow you to play many songs even if you are a beginner! Indeed, they are very frequently used, so you will have access to a wide repertoire in different styles (pop, rock, reggae, blues, folk …) very quickly. It's still fun to learn an instrument!
As you can see, these beginner guitar chords are a stage in which all guitarists get started. To simplify your work, we offer you a downloadable PDF file that you can take everywhere with you!
Need more chords? Enjoy our interactive guitar chords charts ! If you need guitar lessons, you will find progressive paths on imusic-school
Free guitar chords charts to download
Do you want to widen your knowledge of chords?
Discover our guitar lessons!
Discover all our styles on the guitar !
Register and access all the instruments of your online music school