The classical guitar style is very recent in the history of western music. Though guitar-like instruments date back to antiquity, the guitar as we know it only dates back to the nineteenth century. Early compositions for guitar are rare, and one must wait till the 19th-20th centuries to see more and more work dedicated to this instrument.
The Classical Guitar is mostly a type of guitar. Otherwise called the Spanish guitar, it consists of 6 strings and has a wooden body. With a fairly quiet volume, the classical guitar is regularly played solo. The repertoire of songs played is quite extensive, including old baroque music, "classical" music as well as romantic Spanish music and Latin American music. The Flamenco guitar, an other type among its category, has its own particularities when it come to construction & sound, & is mostly used to play Spanish Flamenco music.
Take the classical guitar masterclass given by Roberto Tascini, and perfect your interpretation and techniques of the 10 Estudios Sencillos composed by Leo Brouwer.
Get unlimited access to all our courses, in all styles and for all instruments with your subscription!
I love the concept !!The lessons are very rich & detailed.
The number one online music school: great concept, nice interface, I highly recommend it.
The lessons are very diverse & interesting. I can progress at my own pace on a simple user-friendly website. The teachers are excellent & really make me want to learn an instrument!
Learn guitar with imusic-school

Useful tools

A learning space designed by & for musicians

A large playback catalog with all your favorite tracks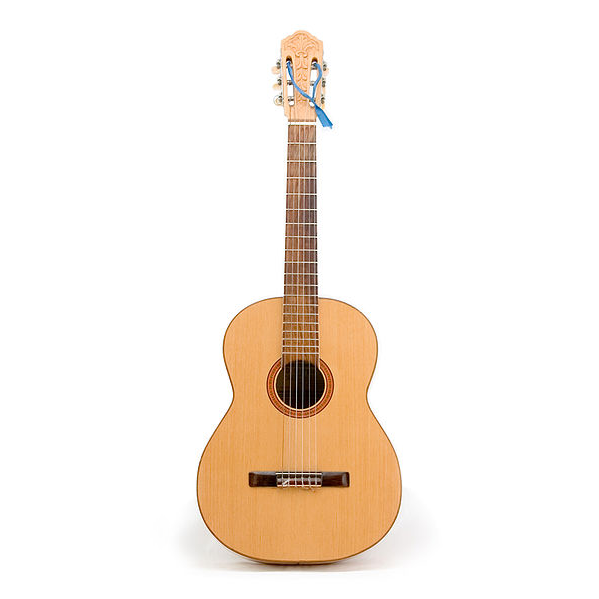 To play classical music, you will need a classical guitar. You can, of course, play on a folk or an electric guitar but the sound will be very different and may not suit the piece.
The instrument is par excellence the guitar to learn on. The string tension isn't too strong and you'll quickly manage to play chords without hurting your fingers!
Additionally, it's easy to find instruments at very reasonable prices for someone who is just starting to learn guitar.
However, be careful not to buy too cheap a guitar! You may end up with a body made of plywood instead of wood and this will completely change the sound and remove the fun of playing.
The great classical guitarists
Before we list the great composers/performers of classical guitar, we must first mention Emilio Pujo. Disciple of Francisco Tarrega, it is he who first wrote down the technique of playing this instrument in a work of six volumes: "Escuela Razonada de la Guitarra".
The list of notable players is long as you can imagine. It would be difficult to choose the best because each composer and/or performer has their own musical style & qualities.
On imusic-school, you'll find the the following guitarists:
Ingrid Riollot, Gabriel Guillen, Roberto Tascini …
Here are some unmistakable pieces that you can learn how to play with imusic-school!
You'll find a large catalogue of classical pieces for guitar at imusic-school so you can learn to play your favorite pieces!
Etude simple – Leo Brouwer
Recuerdos de la Alhambra – John Williams
El testament d'Amelia – Andreas Grossmann