The fascinating jazz/pop/rock guitarist
Native to Minneapolis, Todd is constantly travelling between the US and Mexico. The composer and guitar performer is a member of A Love Electric. The music played by Todd and his band is influenced by jazz-blues tones and world music. Very popular in Mexico, his greatest records are "Man with no Country"; "Butterfly Killer" or "This means Love". With a thousand participations in jazz and rock concerts and festivals in both countries, the reputed musician states that he belongs to any music scene.
Todd is a committed and philanthropic musician. He regularly participates in cultural initiatives and donations in Latin and Central America through his foundation "Music Mission".
Moving between two diverse cultures, Todd is a unique artist recognized for his own musical style and personality.
His method for learning the guitar
Todd Clouser came to imusic-school to offer you a learning method adapted to beginners and intermediate guitarists. Todd approaches each notion step by step and gives you the opportunity to practice using a variety of exercices. Additionally, he teaches you how to play famous songs, in order to make his courses enjoyable and fun.
Todd will also share with you his own techniques and personal advice based on years of experience as a guitarist and composer in the US and Mexico. He excels in his rock and jazz-blues style with the songs "Tlalpan Girl", "Unbreak the Morning" or "How to trust a Lover".
Take a complete guitar beginner course with an international rock-jazz-blues guitarist . Get all the basic concepts and notions you need to learn the guitar serenely.
Reach the next level by taking this intermediate guitar course! Improve your technique and learn to play famous songs!
Your Guitar professors
Guitar / Music Theory
Blues / Jazz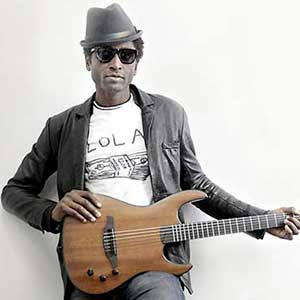 Guitar
BluFunk / Blues / Funk